Ciudad Obregon Food Culture
If Food is your Passion, Prepare for a Wonderfully Fulfilling Adventure

Ciudad Obregon leads the way in Sonora and the north of Mexico on the subject of gastronomy. 
As the agricultural heart of the state, we are the centre of top quality local produce, providing the essential ingredients for both our world-renowned traditional and modern dishes that once indulged, are remembered for eternity.
Obregon maintains traditional Mexican culinary roots, preserving the rich flavoured dishes brought to us by our ancestors. Typical traditional cuisine in Obregon is abundant; almost every street in the centre of the city has a restaurant offering regional variations of some of Mexico's world famous dishes.
So what's on the menu?
For those who have not yet experienced Mexico in person, you probably associate all our food dishes as being hot and spicy. Contrary to international popular belief, this commercially developed assumption is far from being true.
Although some dishes are made with fiery red hot chillies, sometimes bringing involuntary tears to the inexperienced sampling a dish such as 'Albohondigas en Chipotle' (meatballs in chilli sauce), we have a wide range of dishes prepared with the most subtle of seasonings, dishes that have a history stemming back several thousands of years.
Our dishes cater for all food pallets and choices of diet, although meat (carne) and seafood (mariscos) dishes are vastly popular in Ciudad Obregon, we cater for vegetarians too.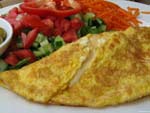 Food lifestyle
In Ciudad Obregon, the day always starts with a wholesome breakfast. Traditionally consumed between 8am and 11am, the typical breakfast diet of Sonorans' is widely varied with a diverse choice of freshly prepared fruits and cooked dishes.
Breakfasts include Mexican cheeses', freshly baked tortillas, famous Mexican 'refried beans', a selection of meats, simple salads and egg dishes all served with a variety of breads.
Traditionally the main meal of the day takes place between 2pm and 4pm and is when families get together. Main meals are wholesome, healthy and rich in nutrition, many incorporating a variety of seasoned meats and seafood accompanied by freshly prepared salads, vegetables and salsas.
In the evening families and friends get together around 8pm or 9pm to socialize and feast on a variety of Mexican snacks and light dishes.
Eating on a budget
Food is a mainstream culture shared amongst all the residents of Ciudad Obregon, and at its best, very easy on the pocket. Whether you are dining out at a top class restaurant or experiencing the highly recommended delights of the many street corner food vendors, food in Obregon is respectfully cheap.
You can develop a very satisfied smile whilst filling your appetite from as little as $20 pesos. A typical meal for a family of four will cost between $200pesos and $500pesos including snacks, entrances, main meal and drinks (and desserts if you can fit them in) at most traditional Mexican restaurants in Ciudad Obregon.

Hungry for more?
If you are planning to visit Ciudad Obregon you may wish to learn more about our regional dishes or see some examples of our breakfast dishes. In addition, if you are a lover of seafood, then you will be interested to know that the seafood dishes in Ciudad Obregon are amongst the best in Mexico.