Music & Theatre in Ciudad Obregon
Dr. Oscar Russo Vogel Theater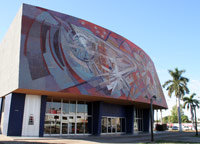 Built by architects Hirom Marcor and Heberto Martinez, Teatro Oscar Russo Vogel opened its doors for the first time on September 16, 1967
Above the entrance to the museum is a large colorful mural spanning the entire front of building that was produced by master Hector Martínez Arteche. The mural is titled "The Mystical Evolution Deer Man" which is a reunion with the Yaqui culture, saying, "The dance of the deer is not a folk dance, is a philosophy about life and death and the evolution of man".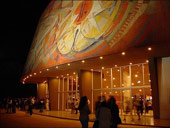 Theatre Purpose
Belonging to the Sonora Institute of Technology (ITSON), the main objective is to obtain and generate resources according to the local audiences needs in all cultural, academic, recreational and social events presented in the city.
The modern cultural space provides excellent facilities and services for various theatrical works, musical concerts and business conventions in the city, and many important events are held here every year, which prove very popular amongst locals and many tourists that visit Ciudad Obregon.
Access for everybody
The theatre can accommodate 759 people and provides access and seating areas for the disabled. A program of events is available on their website www.teatrodelitson.com.mx and if you visit the theatre, you will have access to ample parking facilities.
Location & Contact Details
Address: Calle 5 de Febrero y Rodolfo Elías Calles, Centro
Phone: (644) 410 09 12 , (644) 417 00 75
Fax: (644) 410 09 13
Email: teatro@itson.mx
Website: www.teatrodelitson.com.mx