Taxi Cab Services in Ciudad Obregon
Taxi Cabs are a Reliable and Cheap Method of Transport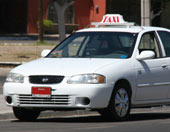 All taxis operate using radio communication and are identifiable by the radio antenna and vehicle sign writing. Each taxi has its own unique license plates with individual identification numbers.
It is not difficult to find a taxi in Ciudad Obregon and you can come across one in almost every location in the city centre. Some taxis are bookable by telephone and you can simply arrange for a taxi to pick you up at your premises or location at a prearranged time.
Fares and Paying
Taxis in Ciudad Obregon do not operate tariff meters like in Western Europe and the USA. Instead, when you book or hail a taxi in Obregon it is common practice to agree the Fares and any extra charges in advance of your journey. Sometimes fares are a little more expensive in the evenings, at weekends.
We recommend that if you are pre-booking a taxi over the telephone, you ask for the fare price, and again before starting your journey with the driver.
Hailing a taxi on the street
You can hail a taxi in the street by raising your arm or if a taxi is stationary at the roadside. We recommend that you go to a main road to hail a taxi, as they tend not to run in quiet areas.
If you decide to hail a street taxi, ensure that you check to make sure it is a legitimate taxi by looking for a radio antenna and vehicle license plates. We also recommend that you pre-agree a fare before you begin your journey to avoid any confusion.
Personal Safety
Bookable taxi companies always keep a record of the car and driver that provides the service, and for security at night we recommend you use a bookable taxi service if it dark or late, especially if you are travelling alone and/or consumed alcohol.
See the bookable taxi companies based in Ciudad Obregon in our tourist directory.