Ciudad Obregon International Airport

Cd. Ciudad Obregon International Airport is situated on the outskirts of Obregon, 15 Kilometres from the City Centre and occupies approximately 364 hectares of land.
Services
It has security maintained parking facilities for up to 80 vehicles and offers car rental and ground transportation services. It also accommodates a gift and souvenir shop, and facilities for the purchase of snacks, food and refreshments.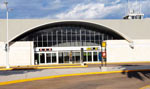 Access for all
The airport has been designed to accommodate and provide all the necessary services for everybody, and that includes people that are affected by temporary and long-term physical challenges, in order to facilitate their stay and use of the airports services as well as movement within the airport terminals.
Cd. Obregón airport offers exclusive facilities for users with special needs, such as special parking spaces, ramps, on the floor guide-tapes and brail indications and signs for the visually impaired.
The airports main operations function 24 hours a day and all other operations between 6am and 6pm.
Airport Departures
The airport recommends that you should arrive in good time if your departing flight is from Ciudad Obregon International Airport. A general recommended guideline provided by the airport is to arrive at the airport two hours before departure time for national flights and three hours before departure for international flights.
For additional information you can contact the airport on the following numbers:
(01-644) 445-00-04
(01-644) 445-00-18
(01-644) 445-00-57
(01-644) 445-00-58
Alternatively visit their website for more information:
www.obregon.asa.gob.mx (English)
www.obregon.asa.gob.mx (Espanol)