Flying to Ciudad Obregon
Fly to Ciudad Obregon from Almost all International Destinations.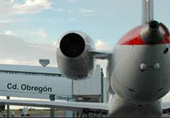 Generally, flights from other countries involve flying to Mexico City with connecting flight directly to Ciudad Obregon, Sonora.
There are two main airlines that fly from Mexico City to Ciudad Obregon, both airlines operating flights that average just over 2 hours, but you must remember that there is a 1-hour time difference between Mexico City (GMT-6) and Ciudad Obregon (GMT-7).
Aeromexico have two almost daily flights from Mexico City to Ciudad Obregon, which are operated by their subsidiary company Aeromexico Connect using Embraer ERJ 145 aircrafts, which seat approximately 50 passengers.
| | | | | |
| --- | --- | --- | --- | --- |
| Route | Flight Number | Days of the week | Departure | Arrival |
| Mexico-Obregon | 2062 | Daily except Wednesdays | 06:30 | 07:55 |
| Mexico-Obregon | 2066 | Daily | 18:00 | 19:25 |
Interjet are a relatively new Mexican company operating new airbus airplanes, generally providing lower prices with internet booking facilities from outside Mexico. They operate one flight to Ciudad Obregon, four days per week using an A320 aircraft, which seats approximately 150 passengers
| | | | | |
| --- | --- | --- | --- | --- |
| Route | Flight Number | Days of the week | Departure | Arrival |
| Mexico-Obregon | 2240 | Mon, Wed, Fri, Sun | 08:40 | 09:50 |
Same Day Connecting Flights
Sometimes when travelling from international destinations it is not possible to get same-day connecting flights to Ciudad Obregon so you will probably need to spend a night in Mexico City. We find that it is more convenient to stay in a hotel near to the airport that offers a shuttle service to and from the airport. Several websites list these hotels, providing all the necessary information and on-line reservation options such as the Airport Hotel Guide Website.
Travelling from the United States of America
There are several flight options for those wishing to travel to Ciudad Obregon, Sonora, from or through the USA. Many major US airlines offer regular scheduled flights to Obregon departing from Phoenix, Los Angeles and San Francisco. Some of these flights include a stopover in Hermosillo, which is located 300km north of Ciudad Obregon and the capital city of Sonora.
Money saving advice
Whatever option you choose, if you are planning to visit Ciudad Obregon we highly recommend purchasing your complete itinerary all the way to Obregón from your departure point as purchasing the Mexico City-Obregon schedule separately in Mexico can sometimes be a little more expensive.