Modelo "Antonino Fernández" Cultural Center
Learn About the Development and Evolution of Beer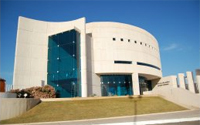 Groupo Modelo - One of Mexico's Largest Brewing Companies
Groupo Modelo is one of Mexico's largest brewing companies and the makers of the world famous Corona Extra Beer, and In April 2003, it opened a purpose built modernistic centre in Ciudad Obregon for people to learn about Sonora's historic development and the evolution of beer since its first creation.
The centre presents temporary sculpture, photography and painting exhibitions within its four exhibition rooms, and the lobby to the centre is used as a gallery and exhibition area for people with different abilities.
It also has a purpose built auditorium with room for up to 120 people, which regularly hosts various cultural and business events.
Many concerts, conferences and presentations are held within the building and there are regular interactive workshops for children based on 'recycled creativity' during the year.
Facilities and Services
The centre provides private parking facilities, a café and restaurant and disabled access with optional assistance by the members of staff. Guided tours are available during the week.
Opening times and Location
The centre is open 10am – 6pm
Admission: free of charge.
Address: Modelo "Antonino Fernández" Cultural Center, 15 Federal Road, Km 18.49, Cajeme Industrial Area, Obregon
Postal Code: 85000
Phone: (644) 410-10-10 ext. 1120  
Email: cnoroeste@gmodelo.com.mx