Yaquis Museum (Museo de los Yaquis)
Preserving the Cultural History of the Famous Indian Yaquis Tribe
The Yaquis Museum (Museo de los Yaquis) is located 10 minutes away in a town called Cocorit and is very popular amoungst visitors to Ciudad Obregon.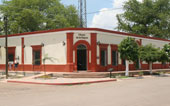 Museum History
The building occupied by the Yaquis museum was originally constructed in 1890 to serve as a guesthouse. In the early 1900's it was used as a military barracks, and 20 years later between 1930 and 1960, it was used as a hotel and commercial house before it became to serve as a tax collection office for a period of 10 years. From 1980, it was used again as a guesthouse until it was acquired in 2004 by the state government of Sonora through the Sonorense Institute of Culture to establish the Yaquis Museum.
Museums Purpose
In April 2008, the museum opened its doors for the very first time to the public to offer a wide perspective of the Yaquis History and Culture. The main objectives of the museum are to, investigate, rescue and preserve the historic culture of the Yaquis tribe as well as sustain their historical, linguistic and ethical values, and raising international awareness of the Yaquis contribution to the development of Sonora.
The museum allows young Sonoran children and teenagers to explore the characteristics, personalities and folklore of the Yaquis and to raise awareness among Sonorans of the historical events and important influence the Yaquis had in the formation of groups and social classes that constitute Sonora's current society.
Popular Day out for Tourists.
Interesting and fun for everyone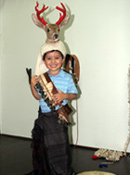 Many tourists that come to Ciudad Obregon visit the Yaquis museum as it provides a very interesting and educational day out for people of all ages.
The museum accommodates 11 themed rooms covering the general knowledge of the Yaquis world, Yaquis territory, traditional festivals, music and dance culture, ethnography, government, traditional medicine, life and history of the Yaquis. There are two specifically designed games rooms for children to learn more about the Yaquis, based on what they saw on the museum tour, and it hosts a room specifically for temporary exhibitions as well as a visitor's café.
Multilingual Services
Personnel that speak several international languages will guide your tour around the museum and you will have access to interactive bilingual technology that allows you to explore the many interesting facts of the Yaquis history and culture.
Opening times and Location
The museum is open 9am – 6pm Monday – Sunday and admission is adults $ 10.00 Pesos, children $ 5.00 Pesos and school groups $ 2.50 pesos per person.
Address: Museo de los Yaquis, Obregón and Calle Sinaloa 200, Cócorit, Sonora
Phone: (644) 418-32-00 Web: www.museodelosyaquis.org.mx