Obregon Breakfast Traditions
Start the Day with a Traditional Obregon Breakfast!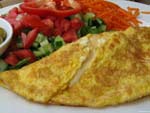 Traditionally consumed between 8am and 11am, the typical breakfast diet of Sonorans' is widely varied with a diverse choice of freshly prepared fruits and cooked dishes.
Popular Ciudad Obregon breakfast Ingredients include a form of beef called "Machaca" which is beef that has been marinated, cooked, shredded and then sun-dried.
Here are just a few typical Obregon breakfast dishes
Fruit Cocktail
A perfect way to wake up and start the day feeling fresh and alive, Fruit cocktail breakfasts are something else! Locally cultivated Water Melon, Papaya, Pineapple, Oranges and apple, coarsely chopped and infused together with freshly squeezed citrus juices a topped with a dusting of mild chilli.
Machaca Con Huevos
A very popular traditional breakfast dish in Ciudad Obregon, the Machaca is slightly seasoned with a pinch of salt and cumin whilst sautéed with a mixture of finely chopped onions and ripened tomatoes. Eggs are added to the dish and the mixture is scrambled together before being served with flour tortillas, refried beans and a mild chilli salsa.
Machaca Con Papas
A very popular breakfast dish for visitors to Ciudad Obregon. Machaca Con Papas consists of finely chopped onions and potatoes sautéed in oil and seasoned with salt before the machaca and chopped green peppers are added, then simmered slightly in stock before being served with refried beans, flour tortillas and a green chilli salsa (a favourite amongst Visit Obregon Staff too!).
Huevos Rancheros


Another popular dish in Ciudad Obregon and traditional to Mexico, this dish consists of fried eggs placed on warm crispy corn tortillas and cooked in a fresh tomato based salsa. This dish is usually served as prepared, but variations include the dish being served with a topping of grated cheese, grilled chillies and refried beans.
Huevos Chorizo
Huevos Chorizo is another traditional dish consisting of a delicious fusion of scrambled eggs with chorizo, chopped green chillies and fresh green salad leaves. This dish is prepared and scrambled together in a lightly oiled based pan before being served with a plentiful helping of freshly grated cheese and garnished with slices of creamy avocado and sour cream.
Chilaquiles
Chilaquiles is a very tasty dish consisting of tortilla chips slightly fried in oil and then simmered in either a tomato, or green chilli sauce until the tortilla chips soak up the sauce and become slightly soft. Grated cheese is then added to the mixture and once melted; the dish is served immediately with a lashing of sour cream or yogurt and decorated with thinly sliced onion rings.
This is only a small selection of breakfast dishes served in Ciudad Obregon
If you are planning to visit Obregon sometime soon, when you arrive here, we encourage you to further explore our food culture and discover some of our true gastronomic specialties. And if your already here, check out some of the restaurants in Ciudad Obregon in our tourist information directory.