Regional Food
Example Some of the Dishes Local to Ciudad Obregon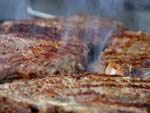 Every region of Mexico has its own specialty dishes as well as variations of traditional Mexican dishes and Ciudad Obregon is no exception. Cajeme dishes provide rich and flavoursome experiences, which for many visitors presents a memorable vacation highlight.
Regional and Traditional Dishes
Here we have a selection of popular regional and traditional dishes to entice your taste buds and prepare you for your "taste of Obregon" experience.
Burritos
There are many varieties of burritos to choose from and we recommend you try them all! Burritos come in several sizes and the largest being a meal in itself. Available in a variety of delicious fillings, including various styles of cooked beef, chicken, pork and or beans sandwiched within a soft large rolled flour tortilla measuring up to 45cm in width, and served with chilli salsa, available from specialist burrito restaurants.

Carne Asada
You can't visit Ciudad Obregon without trying this dish! Fresh cuts of prime sirloin steak grilled over charcoal embers until juicy then rubbed with salt before roasted to a medium tenderness. This dish is usually served on a large platter accompanied by melted cheese, char-grilled spring onions, guacamole, a selection of salsas and grilled corn tortillas.
Tostadas Con Pollo
This dish is delicious and a refreshing meal on a hot Obregon summer's day. The dish consisting of stock boiled tender shredded pieces of chicken breast layered onto a crispy corn tortilla. The Tortilla is first dressed with a bed of refried beans, Mexican cheese, lettuce and finely chopped tomato, and one is never enough!

Albohondigas en Chipotle
This is a very traditional Mexican dish consisting of meatballs made from either Beef, Pork, Chicken or shrimp prepared with selection of herbs, seasonings and cooked in a mildly spicy chipotle sauce, served with rice and refried beans. A very satisfying dish with a mildly spicy kick.
Enfrijoladas
A very enticing dish extremely popular with vegetarians but liked by everybody. This dish consists of soft, warm flour tortillas filled with an infusion of roasted carrot, courgette, potatoes and onion, topped with cheese, bathed in a black bean sauce, and baked in the oven.
Are you a food fanatic ready to experience a "Taste of Obregon"?
If you're a food fanatic and already preparing for a enjoyable culinary adventure in the 2nd largest city of Sonora, you have access to many of Ciudad Obregon's traditional Mexican restaurants in our Visit Obregon Tourist Directory.