Baseball in Ciudad Obregon
Obregons most popular followed sport

Baseball Roots
Baseball is believed to have originated in England and the earliest know reference to baseball is in a 1744 British publication named "A little Pretty Pocket-Book" by author John Newberry. The book is considered to be the first ever children's book, which consists of simple rhymes for each letter of the British alphabet.
The first officially recorded game of baseball in the United States was played on June 19, 1846 in Hockboken, New Jersey, where the "Knickerbockers" were beaten in four innings, 23-1 by the "New York Nine", and historians place the origin of baseball in Mexico in the 1840's.
Baseball in Ciudad Obregon
Baseball roots in Ciudad Obregon stem back to 1945 where its beginnings started in the old "League of Sonora". At that time, the Obregon baseball team was known as the "Chichareros" and their home stadium was called "Club Campestre", which housed a maximum capacity of only 500 people.
In 1958, the Obregon team became known as the "Yaquis de Obregon" and started playing in the Mexican Pacific League. During the 1965-1966 Season, 7 years later, they won the first of four league championship titles.
The 1972-1973 Season saw the Yaquis de Obregon win their second League Championship title, and in that year, they moved to a new stadium called "Estadio Tomas Oroz Gaytan" where they currently play today.
Their following two League championship titles were achieved in the 1980-1981 and 2007-2008 Seasons.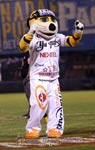 Yaquis de Obregón Team Mascot
The team's mascot goes by the name of "Chacho the Tiger" who provides lots fun and entertainment. His hysterical antics have the crowds standing and applauding with much enthusiasm, creating a vibrant buzz amongst the dedicated fans attending each game.
He is notoriously famous for stirring up a traditional 'Mexican Wave' when the team hit a score, and during breaks, he regularly dresses up in an assortment of costumes to perform some of the most hilarious comedy performances you can imagine.
Yaquis de Obregon Baseball Stadium
If you plan to Visit Obregon, we highly recommend you visit the stadium and watch the team in action during playing season. The baseball stadium holds a maximum capacity of 13,000 people.
More information about the stadium can be found on the official website www.yaquis.com.mx, for an English translation of the Mexican website click here.