Fishing in Ciudad Obregon
Internationally recognised for Wide-Mouth Bass Fishing
Fishing is a popular pastime and a competition sport pursued by people of all ages and genders in Ciudad Obregon.
We are host to a few of the most popular hotspots in Sonora, which see regular fishing activities and competitions take place.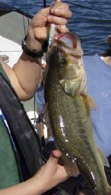 One of the most prevalent locations for none-commercial, commercial and sport fishing in Ciudad Obregon is the Oviachic Dam, also known as "Presa General Alvaro Obregon", located 20 miles north of Obregon.
This manmade water structure constructed between 1947 and 1952 serves as a flood control, power generator and reservoir providing water irrigation to local agricultural land as well as drinking water, and boasting a well-stocked variety of fish species including Carp, Catfish, Tilapia, and Largemouth Bass.
We regularly see many visitors and fishing enthusiasts from as far as Europe and Australia come to fish the Oviachic water throughout the year and its host to a very popular annual International Largemouth Bass Tournament.
What makes Lake Oviachic so popular amongst fishing fanatics is its vast size.
Presa General Alvaro Obregon covers a surface area of over 20,500 acres and has a water storage capacity of 3226 million cubic meters making it one of the largest lakes in Mexico.
What's more impressive is the REAL catch for fishing enthusiasts, bass fishing!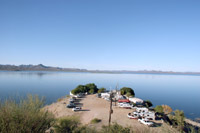 The lake was heavily restocked in past years, and the several record spawns over recent years ensures the lakes international popularity.  Every year the average size of bass has increased, and in recent seasons, catches averaging between 5-9 pounds have been very common. It is normal to see boats with two anglers catch in excess of 40 bass daily, and catches above 10.4 pounds were recorded in 2008.
Due to the vast size of Lake Oviachic and the impressive amount of coves that provide cover for bass, you will find that fishing here is not very crowded. Authorities also regulate it and local laws permit a maximum of five fish per day, per person to be removed from the lake.
Fishing facilities and services
If you plan to visit Obregon and experience fishing on the tranquil waters of Presa General Alvero Obregon, we recommend you bring your own fishing equipment. Local fishing guides, boat hire and nearby lodging facilities are available at very reasonable rates as well as restaurant facilities.
If you are planning on a group hunting / fishing trip, there are a handful of local professional guides that offer fully inclusive services, details of these will be included soon.