Bus & Coach Travel
Public Bus Services in Ciudad Obregon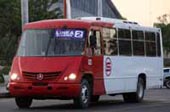 Public transport in Ciudad Obregon is very well structured and organized. If you are planning to explore the city and surrounding towns and villages and prefer not to hire a car to get about then we recommend you use the reliable public bus facilities.
Local Bus Routes and Destinations
In Ciudad Obregon, most public buses travel to and from the city centre (the busiest part of town) operating several frequently scheduled routes throughout the city and travelling to all the local towns and villages.
Bus Stops
Some bus stops have seating facilities and overhead shelters to provide protection from the sun, whereas others are simply a signpost. They are positioned at regular intervals along all the public roads that form part of the scheduled routes and are identifiable by signs that display the route number e.g. "Ruta 15" which in English would be "Route 15".
Buses usually have their destination displayed up on the front of the bus above the driver's window. If you want to use the public bus services but cannot find a bus stop, if you see an oncoming bus, you may be fortunate enough to stop the driver by raising your hand to catch the driver's attention.
Getting off the bus
When you wish to get off the bus, you should give the driver indication that you wish to exit. It is common in Obregon City for bus drivers to stop and let passengers exit the bus between designated stops.
Bus Service Prices and Costs
The cost of bus services depend on how far you are travelling. Fares usually cost from $3.50 pesos to $12 pesos. You can only purchase fares one-way and unlike some bus companies in other parts of the world, you will not receive a ticket after you have paid the bus fare.