Laguna Del Nainari
For the perfect familly day out visit Laguna Del Nainari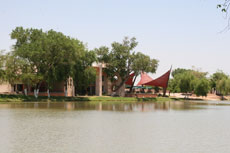 Laguna Del Nainari is a very popular lake located in the western side of the city between Calle Guerrero and Avenida Padre Eusebio Kino.
This artificial lake was built in 1956 by the county president Rene Gandara and it measures almost 2km in diameter. Prior to 1956, the lake was originally a lagoon region popular for duck hunting and used for growing rice crops.
The perfect scene for keeping fit
Day or night, the Laguna Del Nainari is a very popular hotspot for tourists and local residents and provides the ideal location for sports events such as triathlons, marathons, bicycle races and all manner of competitions. During the day, many people can be seen running around the shoreline and making use of the free exercise apparatus that are located opposite the Ostimuri Children's Park.
Enjoy the sun whilst relaxing with friends and family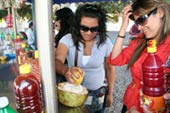 Many families and groups of friends come to the lake in the afternoons and evenings to wind down and relax. The area is surrounded by a variety of trees, which provide a cool shade during the hottest part of the day. On the east side of the lake, you will find a variety of coconut stalls and snack bars offering delicious treats and refreshments, which go down well in the heat.
Also on the east side of the lake there is a recently renovated pier stretching almost 20 meters over the water, providing a panoramic view of the area, which in the evening presents a romantic ambience where you can watch the sun set.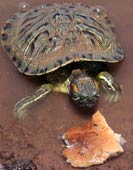 Aquatic animals and wildlife
The lake houses many species of aquatic wildlife and attracts many different varieties of duck and birds. You can often see families with children congregating along the shoreline feeding the hundreds of turtles and various species of fish that have become custom to the visitors of the lake. Therefore, we recommend you bring a small bag of bread to feed the animals, which will surely entertain the children too.
Nearby Attractions and Leisure Facilities
Nearby Nainari Lagoon, there are many other attractions and facilities for everybody to enjoy. Ostimuri Children's Park is a very popular attraction where children can run freely and enjoy the thrill and excitement of a mini amusement park with lots of children's rides; it is also home to a children's zoo and restaurant facilities.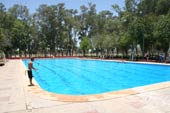 2 minutes walk away from the lake you have access to the Álvaro Obregón Sports Center, a free public area where you can play various sports including baseball, soccer, volleyball, basketball, tennis, front tennis and gymnastics. There is a public outdoor swimming pool on the sports grounds, which is fully maintained and staffed with lifeguards, and you can swim for as long as you wish for only $10 pesos per person.