Obregon City Monuments (page 1)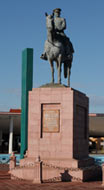 Monument to General Álvaro Obregón
This monument is located in the central square of Ciudad Obregon between Febrero 5 and Hidalgo. General Alvero was an invincible soldier who fought in the Mexican revolution. In 1920, he was elected as the president of Mexico and during his term as president, he directed his efforts towards improving agriculture, labor and education. In 1924 when his term in office ended, he returned to Ciudad Obregon (Cajeme) where he continued his life as a farmer and became the largest producer of chickpeas and rice. His life suddenly ended when he was invited to a banquette at the La Bombilla restaurant by a man named Manco Celaya, under the pretext of viewing some drawings, when suddenly the man killed him by shooting him 3 times in the face.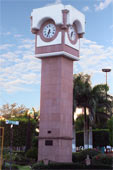 Monumental Clock
The monumental clock is also located in the central square of Ciudad Obregon between Febrero 5 and Hidalgo. The clock was constructed and revealed in 1991 during the time when C. Rodolfo Félix Valdez was the then Governor of Sonora and C. Jesus Felix Holguin was the president of Ciudad Obregon (Cajeme) (between 1988 – 1991) as a distinction of security in the city. Overlooking Álvaro Obregón Plaza, the clock tower is a prominent symbol of time peaking at 8-10 meters in height, surrounded by a garden of colourful flowers and carefully maintained lawn areas; it fits into it attractive surroundings presenting a very bold attraction as the sunlight reflects on its acute angles.
Monumento a Benito Juárez
This bronze monument is located at Plaza Benito Juarez on 200 Street between Sinaloa and Miguel Alemán. (Enseguida del Teatro Dr. Oscar Russo Vogel).. The monument was installed on July 18, 1982 in recognition of Benito Pablo Juárez García (Born in San Pablo Guelatao, Oaxaca, March 21, 1806 - July 18, 1872) who served as a Mexican politician and as the President of Mexico several times during 1861-1872.
The Congress of the United States from Colombia knows him as the "Meritorious for the Americas" which is a title granted to him on May 2, 1867, and he credited with the famous phrase "Among individuals as among nations, respect for the rights of others is peace."
La Cascada Monumnet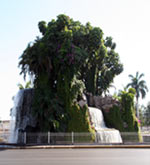 Located on a roundabout at Avenida Miguel Aleman and 200 Street, you will find a beautiful monument that portrays a four-sided cascading waterfall known as La Cascada, built by the governor of the state Mr Rodolfo Félix Valdez in September 1990. Tourists are mesmerised by the sunlight shimmering from the continuous flow of water, which represents a cascading waterfall. When you take a closer look, you will see a fruitful burst of meticulously placed trees where many birds perch in the shade and grasp to quench their thirst. At night its beauty radiates even more as the combination of the waterfalls with light reflectors create an inviting atmosphere and focal point for an astonishing souvenir photograph.
Monument to Juan Maldonado Tetabiate
This monument is located opposite the roundabout where the La Cascada monument is situated at Avenida Miguel Aleman and 200 Street Guerrero. Juan Maldonado Tetabiate (1857-1901) was a famous defender of the Yaqui tribe who successfully fought to maintain the land of Cajeme for ten years until a peace treaty called La Paz de Ortiz was signed in 1897. In 1899 the peace treaty was overturned and uproar came about the Yaqui towns once again, and 2 years later in 1901, Juan Maldonado Tetabiate passed away. The monument was constructed in admiration and respect of his efforts during his life to protect the land of Cajeme.