Parque Ostimuri - Family Park
Variety and fun for all the family
Parque Ostimuri is a family haven that of­fers many possibilities for fun and excitement, particularly for children.
The park was built by the Board of Progress and Welfare of Cajeme within the forest land of "Ostimuri" and opened for the first time on December 9 1970.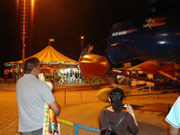 Fun and thrills of the amusement park
An awesome miniature train runs through the park that you can use to explore the many areas and hidden surprises. Amongst the surprises is a mini amusement area full of thrilling mechanical rides for young children. The rides include supersonic jets, crazy carts, horses, the wheel of fortune and a mat slide to name just a few. There is a separate play area equipped with swings, slides and other children's recreational apparatus and resting areas for families to enjoy.
Observe the stars and learn about star constellations

Visitors can also pop in to Sonora's first Planetarium, view the sky, stars, and learn a little about astronomy. Ostimuri Planetarium was opened on January 31 2004 to encourage people throughout the state to learn more about the science of astronomy. Within the building, you can view a live projection of the night sky on the chamber ceiling and learn about the skies star constellations.
Meet some really awesome animals in the zoo
In addition, whilst exploring the park you will find the Ostimuri Zoo.
Here you can see many impressive species of animals such as the grey white-tailed deer, European fallow deer, spider monkeys, raccoons, bobcats, gray foxes, wild boar, coyotes, blue wildebeest, snakes, turtles and water gila monsters and many more animals. There is also an aviary, exhibiting pigeons, parrots and peacocks.
Within the park, you will also find a variety of snack kiosks and refreshment areas and mobile stalls where you can purchase toys, candy and cotton candy.
The park is located on the south side of Laguna Del Nainari between Calle Guerrero and Avenida Padre Eusebio Kino and is open between 8am & 8pm.
Tel. 01 (644) 413 4917 / 414 2937.