Cajeme Planetarium - Ostimuri Obregon
A perfect way to learn about the sky at night
Built in 2003 and opened to the public on January 31 2004, the planetarium is located within Parque Ostimuri, south of the Laguna Del Nainari.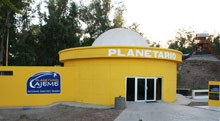 The purpose of the building is to popularize the science of astronomy to people of all ages and it is open to the public.
The projection room measures 7 meters in diameter with a domed roof, which allows the station to project a real time image of the sky for people to view. Around the projection room, you will find a gallery that presents a photographic exhibition based on astronomical topics.
Educational fun for everyone
When visitors arrive to the planetarium, they will be welcomed with a very informative and educational pre-entry screening talk before entering the projection room. Once they enter the projection room, a technician will use the special telescope and screening technology to display a live recreation of the night sky on to the planetarium dome.
During the screening of the night sky, depending on the time of year, visitors will be able to see detailed images of star constellations, solar storms, planets and much more, and will be given an explanation of what they are actually viewing.
A popular attraction amongst everybody
Since the planetarium first opened its doors, it has proved a very popular place for visitors to the city, local residents and students of all ages, and within the first three years of opening, it received over 20 thousand visitors.
If you wish to explore and discover more about the night's sky, we recommend you visit the planetarium whilst staying in Ciudad Obregon. Entrance for adults is only $20 pesos, for children and students with ID cards its $10 pesos, and for groups of schoolchildren, if they book an appointment each student pays only $5 pesos.