Obregon Parks and Plazas
Green spaces to relax and unwind with the family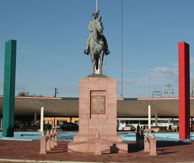 Álvaro Obregón Plaza
Álvaro Obregón Plaza is located in the central square of Ciudad Obregon between Febrero 5 and Hidalgo, opposite the Municipal Palace. This is where many celebrations and parades are held throughout the year. You can regularly find many things taking place from book fairs and promotional events. It is a very open public space surrounded by floral decorations and a variety of trees. There are many nearby shops and stalls selling refreshments and snacks to enjoy whilst relaxing reading a book during a quiet afternoon, or simply watching the sunset in the evening.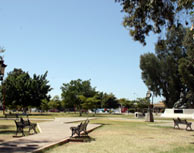 Park of the Pioneers
Park of the Pioneers is situated north of Calle Morelos between Durango and Zacatecas. This park is a very popular with parents who bring their young ones to run around freely in the open and entertain themselves in the children's play area. From early morning right through to the late evening, it is common to see many people of all ages exercising and walking around the park. The area is very popular for families because it well maintained and regularly patrolled by the police, providing a very safe and friendly environment for all.
Plaza Benito Juárez
Plaza Benito Juarez is located on 200 Street between Sinaloa and Miguel Alemán. (Next Theater Dr. Oscar Russo Vogel). Until 1992, this plaza was originally named "Park Olvera" in honor of a young City Council officer who died in an accident. The plaza has always been a favorite place amongst many residents in Ciudad Obregon where they go to spend their leisure time with families. There are many seating areas located around the park and plenty of trees providing a nice cool shade during the hot sunny afternoons.