Obregon City Monuments - (page 2)
Joy to the Youth, to Joy and Water Cajemense
You can view this monument on the north exit of Ciudad Obregon opposite the VIPs Restaurant near the Yaquis Dance Memorial. The monument shows two youths bathing in a manmade spring of uprising water, which was built to represent the three strengths that characterize the people of  Cajeme. "An inexhaustible source of water that irrigates the subsoil that provides our people with an inexhaustible energy which is applied equally to the work and progress of Cajeme and the southern state of Sonora.
Yaqui Dancer Memorial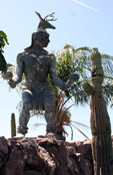 The Yaqui Dance Memorial is located on the main road at the north exit of Ciudad Obregon in front of the Fiesta Inn Hotel and opposite the VIPS Restaurant. Erected in 1966 La Danza del Venado (Yaqui Dancer Memorial) is a symbol that represents many years of spiritual and cultural tradition. Yaqui people identify themselves very much with nature and for them the life and death of a dear is a sacred rite and is a religious ceremony that they perform to please god and feel good with him. The religious dance is always accompanied with primitive tools to the Yaquis and with music played with a violin and harp, which ends with the death of a deer.
Monumento Al José María Leyva Cajeme
The José María Leyva Cajeme (born 1817) monument is located on the North Exit of Ciudad Obregón opposite Walmart. Realizado en Junio de 1885.Erected in June 1985 the statue is a portrait of the man who became a very important, remorseless, untiring warrior and defender of the Yaquis tribe against the wars amongst many military troops in the state of Sonora during the 18th century.  He led the Yaquis tribe by enforcing their rights to their land during the civilisation process and was killed on April 23 1887. The memorial statue was constructed as a tribute of admiration and respect for his efforts and contributions to the municipal that is now named after him.
Glorieta Monument "The Discobolo"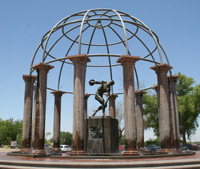 Located on the right hand side of Ostimuri Park and opposite the Laguna del Náinari, this monument was constructed in recognition of the efforts of the sports people and atheletes of Cajeme. This bronze masterpiece portrays an athlete (discus thrower) participating in the launching of a discus whilst surrounded by a coliseum of 12 solid posts and a half-globe open ceiling structure. The monument cascades showers of water from each post and during the night it is lit up to display a spectacular scene, attracting many visitors and photography enthusiasts.