Museums & Galleries in Ciudad Obregon
Preserving Ciudad Obregon's History & Cultural Roots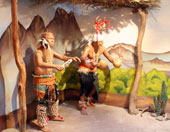 Ciudad Obregon is home to the Yaqui Cultural Museum located in Cocorit, Sonora, developed to preserve the history, culture and traditions of the Yaqui Tribe. Here you can view original artifacts, follow the Yaqui history timeline and experience how the Yaqui people have preserved and continue to maintain native traditions in today's modern society.
National Geographic Award
The Yaqui Museum has been awarded a plaque from the National Geographic for its efforts in preserving the Yaqui culture and providing a highly educational learning experience. It is complete with modern interactive technology and provides a perfect day out for people of all ages interested in understanding more about this historical tribe. The museum staff speak several international languages too.
Promoting Creative & Artistic Expression
Casa Rosalva, originally a large family house, in April 2004 opened its doors as a forum for creative and artistic expression. The house consists of a series of spaces created purposely for responding to the different needs and concerns of Sonora's artistic community and promotes regular exhibitions of visual art by local and international artists.
There are several art galleries in Ciudad Obregon housing a variety of exhibitions, but predominantly these are works of art.
With plenty of exceptional exhibitions being hosted throughout the year, in Ciudad Obregon you are sure to be inspired during your visit. Find out more in our section dedicated to Ciudad Obregon's Museums & Galleries.