Food & Drink in Ciudad Obregon
Ciudad Obregon – the Sonoran Capital of Cuisine
Ciudad Obregon is renowned for the quality and diversity of its food culture and has been rated by many as the Sonora capital of cuisine. Everywhere you go, street corner, main street, side street - your never more than a 2 minute walk away from a quality food establishment, just follow your nose!.

Tantalize your taste buds with our world famous specialty
Visit local food producers, traditional restaurants, cafés or grills and sample the large variety of Mexican dishes, regional specialties or eat in one of the many international cuisine restaurants… and if you are feeling adventurous and want to tantalize your taste buds, then try our "world famous" Sonora hotdogs (rated as probably the best hotdogs in the world).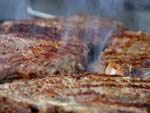 Maintaining Obregon's Culinary Heritage
Chefs work hard to maintain the cultural culinary heritage that Ciudad Obregon has become famous for; preserving traditional recipes and using only the finest locally cultured produce to prepare mouth-watering savoury and sweet dishes. Once you have sampled our cuisine offerings, you´ll want to come back for more! Visit our outlying towns and villages and explore the regional variations and specialties. Enjoy our quiet countryside restaurants or sample some of the best and freshest Seafood in Mexico.
And to wash all that delicious food down
With fine wine producers from our Sonora neighboring state Baja California, you'll get the opportunity to taste a selection of top quality vintage during your stay. Alternatively, if you prefer a cool crisp beer, you will be spoilt for choice with a variety of beverages produced by several local breweries in Ciudad Obregon.
Be inspired and find out more in our section dedicated to Food & Drink. Alternatively, check out our restaurants and takeaway directory.