Sports in Ciudad Obregon
We all have a favorite sport… what is yours?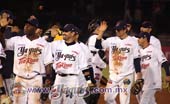 Since 1958, Ciudad Obregon has been the home of the Mexican Major (Pacific) League "Yaquis de Ciudad Obregon" Baseball Team…
Baseball is the most popular followed sport in Ciudad Obregon and the stadium located in the centre of the city regularly entertains crowds of up to 12,000 people. We highly recommend a visit to the local stadium to experience the exhilarating atmosphere of the roaring crowd and the funny gimmicks of the team mascot who is sure to entertain you nonetheless.
Basketball is also a very popular sport in Ciudad Obregon, which is the home to the team "Trigueros" boasting local and international top-level players who practice and play in the Municipal Gym Manuel Garcia Lira, which has a seating capacity of 2300.
Football is also widely followed in Obregon. The "Piri Sagasta" stadium is where it all happens and has practice space for up to 8000 people.
Variety and choice… we have something for everybody
Besides the mainstream sports followed in Ciudad Obregon, fishing is very popular, and if you're a person who like to participate, Obregon offers a variety of places where you can play golf, bowling, go hunting, play pool/billiards and much much more…
Whatever you are into, be it participating or simply observing through interest. Obregon offers a plentiful list of sporting activities and events for everybody. We have numerous top-class sporting venues often hosting important international games and sporting events.
Make sure you take time out to see an event or participate in something that interests you during your visit to Ciudad Obregon.