Customs & Immigration
Passports & Permits - Entering into Mexico
Passports
On arrival in to Mexico, you must show a valid national passport which we recommend valid for at least 6 months.
Visas & Permits
You must also be in receipt or obtain a Permit upon entering into Mexico; these are called FMT Permits (Tourist / Business Trip Permits).
There are other forms of permits can be obtained from the airline you travel with, or at the local port of entry and nearest immigration office if you travel to Mexico by road.
Loss of Mexico Tourist Permit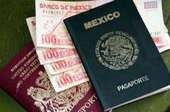 If you lose your tourist permit, it is important that you visit the local Immigration Office (Oficina de INM - Instituto Nacional de Migracion) to obtain a duplicate permit. The nearest immigration office to Ciudad Obregon is 1.5 hours drive away in the town Guaymas.
The procedure for obtaining a duplicate permit is straightforward, takes no longer than an hour depending how busy the immigration office, and the bank that you visit is.
The procedure:
Complete some simple forms at the immigration office.
Take a trip to the nearest bank to pay the immigration permit fee (approximately $300 MXN Pesos).
Return to the immigration office with the receipt from the bank.
Receive your duplicate permit.
Extending Your Mexican FMT Tourist Permit
When you enter into Mexico, an Immigration Officer will write the maximum number of days you are allowed to remain in Mexico onto your tourist permit. Usually, this will be the full permitted allowance of 180-days, but if the officer writes a lesser number on the visitors permit (e.g. 60 days), you can have your permit extended up to a maximum of 180 days from the date you first entered into Mexico. To do this, you will need to visit the local immigration office, and follow a similar procedure as mentioned above.