Communications - Telephones in Ciudad Obregon
Public Payphones in Ciudad Obregon
No matter where you are in Ciudad Obregon, you will find a public pay phone on almost every street corner or outside most convenience stores. Telmex (Telefonos de Mexico) the biggest telephone service provider in Mexico, operate most of the public pay-phone services in Ciudad Obregon.
There are two types of public pay phones in Ciudad Obregon, coin operated and pre-paid phone cards phones.
Prepaid card operated phones are the most popular, and you can purchase pre-paid cards from most convenience stores, hotels, pharmacies and kiosks,look for a notice or sign in the window, or ask at the counter for "Tarjetas Ladatel".Commonly Telmex phone cards are available in values of$30, $50 & $100 Mexican Pesos and come as chip based cards in a sealed wrapper. Reject the card if the seal of the wrapper seems damaged or tampered with in anyway.
Payphone charges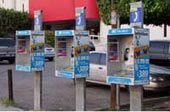 Local calls – calls to local landline numbers in Ciudad Obregon cost a fix fee per call. Calling local mobile cell phones using the local 3-digit access number (044) costs a fixed price per minute, which is considerably lower than calling a non-local mobile cell phone.
National calls – cost $13 Mexican Pesos per minute, charged to the nearest minute.
International calls – cheaper than making national calls, cost $10 Mexican Pesos per minute, charged to the nearest minute.
Using Mobile Cell Phones in Obregon
Ciudad Obregon has an extensive and reliable cellular telephone network system, and most dual and tri band mobile phones that have GSM 900 or 1800 will work via roaming in Ciudad Obregon and most other places in Mexico.
There are 3 main cell phone service providers in Mexico; 'Telcel' (America Movil) which is the largest and most common network in Mexico, 'IUSACell' and 'Movistar'. Calling Rates to and from mobile cell phones in Mexico are generally high when compared to calling mobile phone rates within USA and Europe.
If you use a 'Tri Band' mobile cell phone at home, you should have no problem using it whilst in Ciudad Obregon as it should operate on the GSM (Global System for Mobile) network in Mexico. Before you leave from another country to Ciudad Obregon, contact your mobile cell phone service provider to confirm that international roaming has been enabled on your account.
You must take into consideration that using a foreign mobile cell phone in Mexico, your mobile service provider will charge you additional roaming charges whilst in Ciudad Obregon, so to avoid any BIG surprises make sure you aware of the prices for making calls from your mobile cell phone in Mexico before you make any.
There are protocols for dialing numbers in Mexico, which can seem complicated. For further information, visit the Mexican Dialing Codes page.